4 Easy Ways to Raise Awareness for Sighted Non-24
Special thanks to Andrew Cowen for contributing to this article.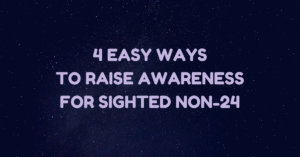 Sighted Non-24 Sleep-Wake Disorder isn't well known, even by doctors. Raising awareness is how we will improve the diagnosis and treatment of Non-24. Currently, those who know about Non-24 may not realize sighted people can develop it. This may be the only disorder where people discriminated against because they can see. Sleep disorders are notoriously difficult for people to empathize with…
Even our friends and doctors may unintentionally gaslight us by saying things like, "Yeah, I have a hard time falling asleep sometimes, too." But Non-24 isn't just the inability to fall asleep sometimes. It's a complete deviation in a normal rhythm that is deeply systemic and difficult to manage.
So, here's what we can do to help raise awareness for this rare and incredibly difficult condition:
Call Vanda
Call Vanda Pharmaceuticals and ask them to be vision-inclusive in their advertising for Hetlioz. Simply let them know there are sighted people with Non-24 and that people like us deserve representation, too.
Only featuring blind people in their advertising makes it difficult for sighted patients to get a prescription for Hetlioz. Doctors watch ads, too, and if they get the impression Non-24 only occurs in blind people, sighted patients my struggle to get diagnosed.
Call them 24/7 at: 1-855-856-2424
Contact Local News
Contacting your local news can allow you to highlight the oddness, rarity, and difficulty of Non-24. This option is best for people who don't mind being open about having Non-24 as the news may want to interview you. This is especially important around November 24th for Non-24 Day or Rare Disease Day (February 28th/29th).
Get Featured on This Site
Send us your story. We want to hear about how you (or your loved one) developed Non-24, how you were diagnosed, or how Non-24 affects your life.
We also accept submissions for blog posts, short stories, poems, artwork, and more. Help us show the world what it's like to have Non-24.
E-mail us at 11sightednon24@gmail.com
Send Postcards
Send postcards to doctors, neurologists, and sleep clinics. We have several different pre-designed post cards. All you have to do is print, stamp, and send them. We recommend looking up addresses for your local doctors. Using card stock or having these printed at a local printer is best. If you don't have a local printer, Vistaprint is a good company to use.
Do you know of any other ways to help raise awareness?
Let us know!